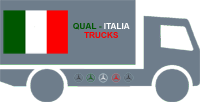 QUAL-ITALIA TRUCKS Bvba
Kapelsesteenweg 156
2930 Brasschaat
Belgium

BTW : BE0678.607.248
Remi Britti : +32 (0)475/27.35.27








Copyright © Movi Computerbedrijf.



We are a company who sels all rolling equipment with an industrial purpose, such as :

trucks, cab-chassis, tippers, lifting ramps, tanker trucks, and so on ...
trailers, low bed trailers, water tanks, gas tanks, fuel tanks, and so on ...
excavators, bulldozers with tracks or tires, shovels,...
hoisting machines,forklifts, hydrolic hoists, ...
agricultural machines, tractors, threshing machines, plow machines,...
Cars, on demand of the client

These tools, both new and used are in the condition to work with, not to work on.
Hence the "QUAL" in our name, for QUALITY. "ITALIA" stands not only for our nationality but also for the love and passion that in Italy is given on working equiment.

With that same love and passion we only try to sell what is good enough for us and our customers.


Besides, we also selling lots of goods, such as :

clothing, shoes, airco,bicycles ...

If you look, but can't find, ask us and we will try to help you as soon as possible.